Please Note: This is a XXX Hardcore Production
The film, including images and description on this page...
for ADULTS ONLY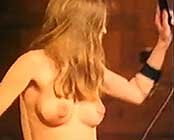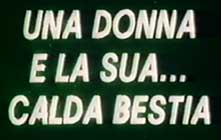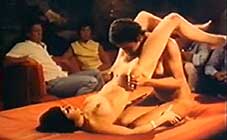 original Italian title UNA DONNA E LA SUA...CALDA BESTIA [The Woman and Her... Hot Beast]]
also known as MARINA E LA SUA BESTIA [Marina and Her Beast]
also known as MORBIDA and LIVE SEX CLUBS

director: Renato Polselli
starring: Marina Lotar (Marina Hedman) · Ornella Picozzi (as Sandy Samuel)
Cecilia Paloma · Ciro Masaposito · Denise Dior · Joselita Capponi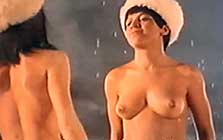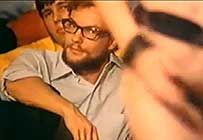 Renato Polselli was - arguably - the most eccentric of all Italian filmmakers. Much is written elsewhere on this site regarding the extraordinary artistry of his early works [VAMPIRE OF THE OPERA, LOVERS OF THE VAMPIRE, et al] as well as his eventual spiral into cinematic insanity [OSCENITA and WHITE MOUTH BLACK MOUTH]. Usually, he directed films under the pseudonym 'Ralph Brown' and he is best known for TRUTH ACCORDING TO SATAN, DELIRIUM, MANIA, BLACK MAGIC RITES AND ORGIES OF THE 14th CENTURY. As his career continued, Mr Polselli's films became more excessive; some critics wrote that he had gone insane. In the mid '70s, he started including hardcore scenes in his films [beginning with THE REVELATIONS OF A PSYCHIATRIST ON THE PERVERSE WORLD OF SEX (1975), resulting in major distribution problems. After a five year hiatus, he returned as a porn director, helming this movie [shot in Denmark] in 1984. The unabashed, uncompromising quirkiness of this production made it virtually impossible to secure any kind of theatrical release and the movie became 'lost' for decades. Renato died of natural causes at age 84 in October of 2006. This print came from his archives.
This film is intended for adults only. It is porn. At the same time, it's not porn. Perhaps it is indescribable. The central focus is an indepth look at the '80s sex industry in Denmark, with emphasis on Live Sex Shows and commentary from the performers involved. While director Polselli takes a considerable amount of time interviewing these participants and treating them with respect, he also allows his own personal demons to burst through [often, with jarring effects]. For example, a discussion of 'free love leading to cultural intellectualism' is interrupted by a lesbian encounter in the stall of a nightclub bathroom, followed immediately by naked nymphs in the snow [pic above left]. Equally astonishing are intense scenes of S&M and rape randomly inserted at various points in the narrative.

And then, there's the soundtrack: from Iron Butterfly's In a Gadda Da Vida blaring during the live sex shows to nonsense English audio samples (seemingly from various porn films) dropped indiscriminately for about 20 minutes of the movie.
The star is listed as Marina Lotar. This is really blonde Danish actress Marina Hedman, best known for genre classics like EMANUELLE AND JOANNA and IMAGES IN THE CONVENT. She was also the bombshell used for the hardcore sex scenes in Alfonso Brecia's BEAST IN SPACE and the costar of Polselli's aforementioned WHITE MOUTH BLACK MOUTH. Here, she doesn't show up until the last 20 minutes for the segment on bestiality. Please note: while the subject is discussed candidly [and despite the brazen title of this movie], there are no scenes of sex between humans and animals.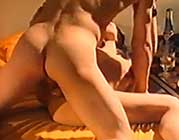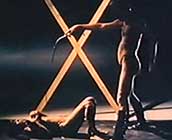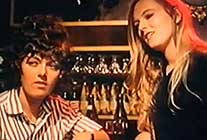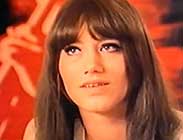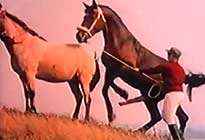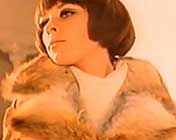 A hardcore (XXX) Italian film with optional ON/OFF English subtitles; widescreen format,
(82 minutes), DVD encoded for ALL REGION NTSC WORLD FORMAT