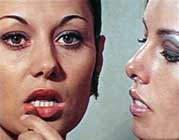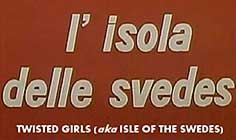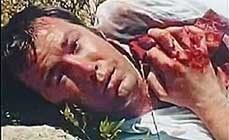 original Italian title: I'ISOLA DELLE SVEDES [Isle of the Swedes]
also known as TWISTED GIRLS and THE SWEDISH BITCH and NO MAN'S ISLAND
director: Silvio Amadio
starring: Katherine Diamant ˇ Ewa Green [as Eva Green] ˇ Nino Segurini ˇ Wolfgang Hillinger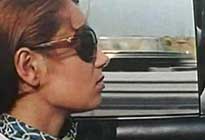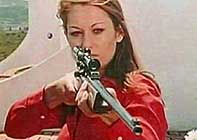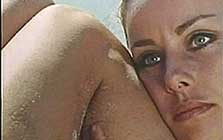 Following a major fight with her fiancé Maurizio, Manuela breaks up with him and decides to go to a tiny island in the Mediterranean where her friend Eleanora now lives a solitary life. The friendship between the two young women gradually turns into a sexual attraction and they become lovers. Maurizio, hoping to make up with Manuela, follows her to the island which leads to an eruption of jealousy and deadly violence.
The title makes little sense since neither Manuela nor Eleanora appear to be Swedish. And the exploitative English title, Twisted Girls is only marginally better. But more importantly, this film is generally considered the turning point in Silvio Amadio's career, as he moved away from Peplums (eg, THE MINATAUR and other studio assignments) into a more perverse direction. He is probably best known for two Rosalba Neri films, AMUCK! and A SMILE BEFORE DEATH. In 1974, Amadio helmed THE MINOR and - as a result - he became obsessed with actress Gloria Guido. He would direct her next five movies before they split their ways. Mr Amadio died from cancer at age 68 in August 1995.
The cinematographer for this film was Aristide Massaccesi, long before he became Joe D'Amato. In fact, this was his debut in the motion picture business. From here, he joined the crew of Demofilo Fidani (Miles Deem) for a series of Spaghetti Westerns between 1969-72 (including DJANGO VS SARTANA and DEAD MEN DON'T MAKE SHADOWS). In late 1972, his experience landed Aristide Massaccesi the 'Director of Cinematography' position for Massimo Dallamano's epic Giallo WHAT HAVE YOU DONE TO SOLANGE? His amazing camerawork put him into a directorial position. In 1973 he delivered DEATH SMILES AT MURDER under his real name and LIVIA: VIRGIN OF THE ROMAN EMPIRE as the first film from Joe D'Amato. Over the next three decades, he would helm close to 200 movies, often starring Laura Gemser in her famous Black Emanuelle role (i.e., EMANUELLE AND THE LAST CANNIBAL TRIBE, EMANUELLE INVESTIGATES VIOLENCE TOWARDS WOMEN, et al). In 1999, Mr Massaccesi (Joe D'Amato) died from a heart attack at age 62, shortly after completing his final movie PREDATORS OF THE ANTILLES.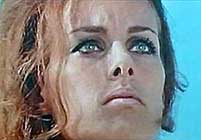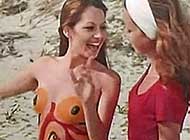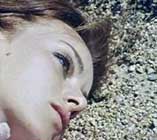 An Italian film with English subtitles; widescreen format, (85 minutes),
DVD encoded for ALL REGION NTSC WORLD FORMAT;
extras include selected trailers

Nudity/Graphic Violence/Sexual Brutality/Drugs
Recommended For Mature Audiences