††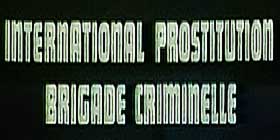 ††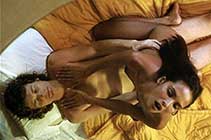 original French title:
INTERNATIONAL PROSTITUTION: BRIGADE CRIMINELLE

[International Prostitution: Criminal Squad]
director: Sergio Gobbi (as Elie Blorovich)
starring: Laura Gemser ∑ Gabriele Tinti ∑ Jean-Louis Broust ∑ JoŽlle Guillaud ∑ Sophie Boudet
††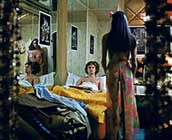 ††

†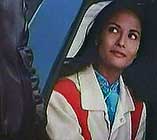 This one is a bit like a mixture of EMANUELLE IN BANGKOK with EMANUELLE: ON THE ROAD TO PROSTITUTION. Gabriele Tinti plays a gangster pimp named Tony Marcone. He's running a racket in Paris that specializes in whoring out his Asian girls to European clients. When Tina - one of his high-priced hookers - decides she doesn't want to do it anymore, he accidentally kills her during a heated fight. With the police on his trail, Tony flies off to to Hong Kong [presumably to purchase another girl] but the HK authorities arrest him as he deboards the plane. Paris detective Philippe Dega is sent to retrieve Tony and bring him back. After a major 'error in judgment,' Philippe is tricked by Tony and he escapes into the Hong Kong underground. Philippe is disgraced, ridiculed by both the HK and French police. But instead of returning to Euro empty-handed, he seeks help from the murdered girl's sister, a bathhouse whore named Tazzi, living in Bangkok.
Here is a major Laura Gemser rarity, often considered a 'lost' movie and virtually unavailable anywhere until this print surfaced in Germany. Both Laura and [her real-life husband] Gabriele Tinti are shockingly good and Sergio Gobbi's narrative shifts seamlessly from action to sleaze throughout. Laura Gemser made this movie right after Ilias Mylonakas' EMANUELLE QUEEN BITCH and just before D'Amato's BLACK EVA [Black Cobra].

††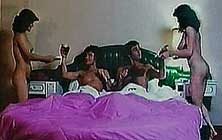 ††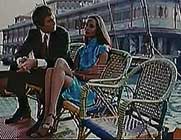 ††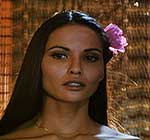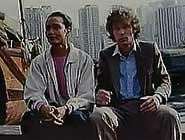 ††

††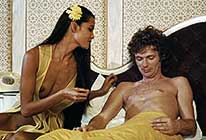 A French/Italian film in German Language with optional ON/OFF English subtitles;
fullscreen format, (83 minutes), DVD encoded for ALL REGION NTSC WORLD FORMAT;
extras include numerous Laura Gemser trailers

††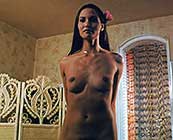 ††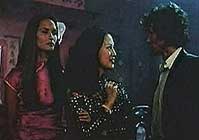 Nudity/Strong Sexual Situations/
Violence/Rape/Sexual Brutality/Drugs:
Recommended for Mature Audiences Only