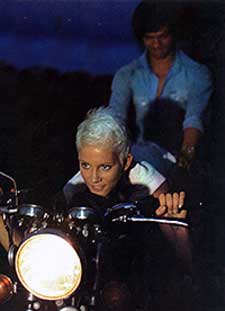 Annie Belle began her career (as Annie Brilland) in Jean Rollin's BACCHANALES SEXUELLES at age 17. She then starred in Rollin's LIPS OF BLOOD before her breakout movie LAURA. Shortly after, Annie convinced filmmaker Massimo Dallamano to read a script she had written and - further - to fine-tune and direct it. That project became this film. The story deals with a sexual awakening of young Annie as she grows from a girl to a bruised, but independent, woman.
The movie combines the popular coming-of-age theme within a more adult, erotic atmosphere. It begins as Annie's father removes her from boarding school to take her on a trip to Hong Kong. Enroute they meet and befriend a group of socialites. But daddy has come to Hong Kong for business and has no interest in mingling with the HK jet set. In reality, he's more interested in getting Annie to the hotel where he hopes to do some kinky mingling because... he's not her father at all. Rather, Michael is her lover [of sorts]. He's been dominating Annie's life since the death of her parents when she was 13. His age [coupled with a weird sense of morality] has kept him from actually fucking Annie but not from using her, sexually. And she is growing more and more disgusted by it. Then, as it turns out, his 'business' in Hong Kong is passing counterfeit money and there, in the hotel room, he is arrested by the police... leaving Annie left alone with no place to go. She turns to the people they met earlier and moves into the home of rich socialites Linda and Angelo. Then the adventure begins.
Seemingly, Mr Dallamano is very comfortable wallowing in stories of sexual perversion while escorting the audience, circumstantially, along with him for the sluggish ride. His narratives shift without notice from safe to the extreme (e.g., VENUS IN FURS, INNOCENCE AND DESIRE, SUPER BITCH, WHAT HAVE YOU DONE TO SOLANGE?). Even his SECRET OF DORIAN GREY relishes in a trashy decadence.
Annie Belle would make anther 35 films, many with her co-star here, Al Cliver (including THE ALCOVE and BLACK VELVET); they were involved in a long-term romantic relationship between 1974-1979. Her most unusual movies are NIGHT OF THE HIGH TIDE (with Pam Greer) and CROSS WITH 7 JEWELS. She will always be remembered for her performance as Lisa in Ruggerio Deodato's HOUSE BY THE EDGE OF THE PARK. In 1989, at age 33, Annie Bell quit acting and returned to graduate school where she received a degree in Psychology. Subsequently, she become a social worker in France for people diagnosed with mental illness. Ms Bell continues to work in that capacity today.