Peter Fonda is an alien named Gonzy Traumerei from another galaxy in this quirky, guilty pleasure. Filmed long after the Easy Rider phenom and 15 years before his Ullie's Gold comeback, Peter does what he did best during the lean years... he appears bewildered most of the time. The film opens as Gonzy attempts to return to his planet [no rocket, just Superman style] but discovers - too late - that he's lost his ability to fly. He crash lands in a Tokyo hotel swimming pool and disappears underground. Three young people - a girl named Mimimi, Monika (because he likes to play the harmonica) and Hachi - witness Gonzy's splashy entrance but will not cooperate with the police when they arrive to investigate the gaping hole in the bottom of the pool. As a result, Mimimi and Monika are handed over to a psychiatric organization called Doors. This is the very unit - part of a worldwide group - who are trying to capture Gonzy with intention of cloning his DNA [10,000 time stronger than human] to create the ultimate indestructible army. Meanwhile, Gonzy tries to rescue his new friends and attempt to correct his flying problem while trying to avoid tomatoes [his kryptonite].
There are many surprises in store for Gonzy and his buddies. But, despite how endearing this SciFi musical fantasy may seem... This is NOT for children! In addition to the nudity [see upper pic, left], some of the situations are much more sexually explicit than anyone might have expected - for example - there's Monika's jealous tirade against Mimimi saying "She'll fuck anyone who gives her champagne." Or Gonzy admitting that he never had intercourse but was "felated once" adding that it ended badly when his powerful "ejaculation blew her head off." Incidentally, the audience is provided an example of Gonzy's liquid explosion when (at the conclusion) his jizz destroys the rocket strip when he masturbates his escape [see pic below, right].
Director Ryu Murakami is a novelist and scriptwriter (responsible for Takashi Miike's AUDITION). He also was the director for TOKYO DECADENCE and KARAOKE TERROR.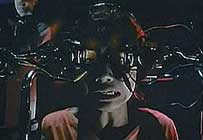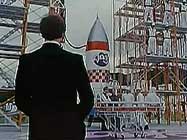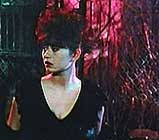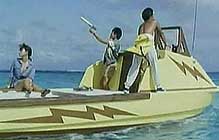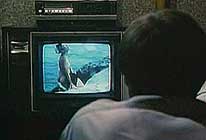 A Japanese film with English subtitles and much English language; uncut (119 mins)
widescreen format, DVDs encoded for ALL REGION NTSC,
playable on any American DVD machine.
Extras include Peter Fonda theatrical trailers.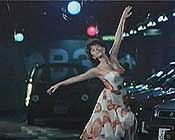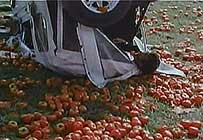 Nudity/Drugs/Strong Sexual Situations/Torture/Violence
For Mature Audiences