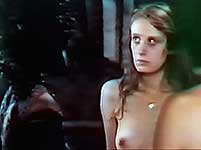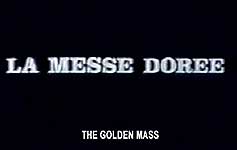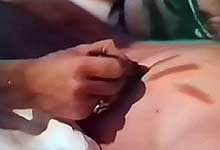 original Euro (French/Italian) title LA MESSE DOREE: IL RITUALE DEL SESSO
[The Golden Mass: A Sex Ritual]
also known as LA ORGíA DEL SEXO [The Orgy of Sex] (Spanish)

director: Beni Montresor
starring: Lucia Bose · Maurice Ronet · Stefania Casini · Yves Morgan · Benedicte Bucher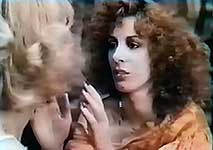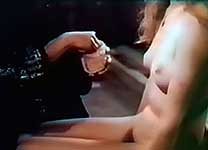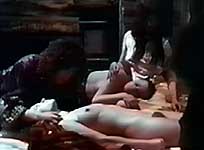 A middle-aged couple invites a group of young people to their luxurious villa to introduce them to the rituals and mysteries of lust. This is psycho-sexual sleaze with strong religious and surrealistic elements. It deals with David and Helene, a rich middle-aged couple stuck in a stale marriage, living in her family's stylish Art Nouveau chateau on the outskirts of Paris. They invite their circle of swank friends to a dinner party, that will culminate with a ritualistic deflowering of a young virgin named Marie-Odile.
Conceptually similar to other Euro celebration sleaze of the time [EROTIC RITES OF PRIESTESS GEZIALE, BLACK MAGIC RITES AND SECRET ORGIES, BEYOND LOVE AND EVIL, et al] but this one - aimed at the mainstream audience - was banned throughout the continent. Filmmaker Beni Montresor was so disappointed over the film's reception that he abandoned the director's chair, concentrating instead on production and costume design. He eventually migrated to New York's Broadway where he was nominated four times for Tony Awards. Mr Montresor died from pancreatic cancer at age 75, October 2001.
This was an early film for actress Stefania Casini. She also starred with boyfriend Joe Dallesandro in Andy Warhol's Bad and BLOOD FOR DRACULA. She is probably best known for her roles in ONLY BLACKNESS and Dario Argento's SUSPIRIA.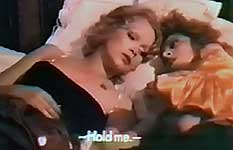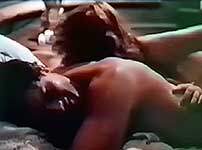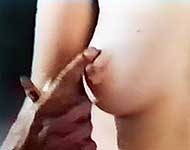 A French/Italian co-production with English subtitles; fullscreen, 89 minutes;
DVD encoded for WORLD FORMAT NTSC, playable on any American machine.
Extras include selected theatrical trailers