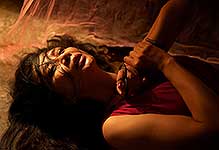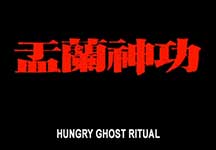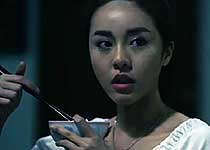 original Hong Kong / Chinese title YU LAN SHEN GONG [Yu-Lan Ghost Power]
also known as GHOST RITUAL
director: Nick Cheung
starring: Nick Cheung · Annie Liu · Carrie Ng · Lam Wai · Cathryn Lee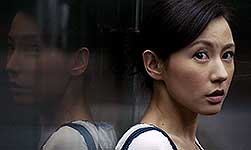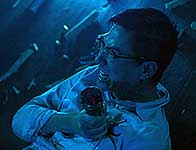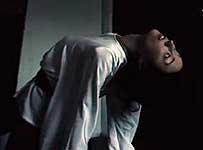 Zong Hua spent his early life as part of a performing Cantonese Opera family in Malaysia. As a young man, Zong was enticed to Hong Kong with promise of a business deal. But in that cruel city, he was cheated and left with huge debt. After a difficult ten years, Zong returns to his Malaysian home. His mother has since died from a heart attack, leaving only half-sister Jing-Jing and Xiao Tian, the former Cantonese Opera star, his stepfather. Zong never got along with either of them. Jing-Jing believed Zong's constant arguing with father Xiao was ultimately the reason for mom's death. Now that Zong has returned, spiritual balance is disrupted. The family is infected with an evil presence.
The strong cast greatly helps Nick Cheung in his directorial debut. Cheung is the award-winning Hong Kong actor best known for the gangster actioner TO LIVE AND DIE IN MONGKOK. He does a good job of building and sustaining a foreboding sense throughout the movie, culminating with impressive, brutal possession scenes.
While it's true that Carrie Ng has been making movies for almost four decades (well over 100 films), her breakout didn't come until 1992 with NAKED KILLER. She would go on to headline a unique collection of projects, ranging from arthouse to exploitation. Genre fans probably know her best for SEX MEDUSA, FATAL SEDUCTION and ROCK AND ROLL COP. Plus, in 1993, Miss Ng was recognized with a Golden Horse Best Actress Award for REMAINS OF A WOMAN.