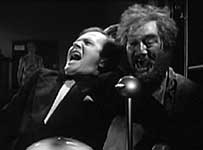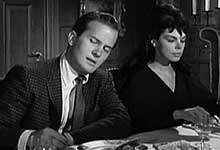 also known as HOUSE OF GHOSTS
director: Terence Fisher
starring: Pat Boone · Erica Rogers · Andree Melly · Dennis Price · Valentine Dyall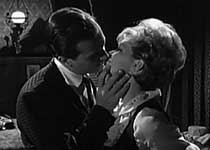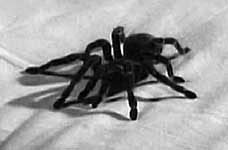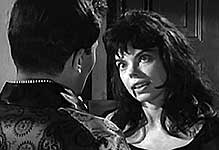 American salesman Jack Robinson visits his fiancee and her eccentric family living in a remote old mansion in the British countryside. He soon realizes that someone is trying to kill everyone in a plot to get the family fortune.
This is the second of three European films (preceded by THE MAIN ATTRACTION) made by Pat Boone in an attempt to revamp his squeaky clean image. Reportedly, he was so embarrassed by his performance in the movie State Fair (1961), overshadowed by Bobby Darin's more-adult earthy presence, that his management company arranged for a series of 'mature' projects to be shot in Europe. In the mid '60s, it was shocking to see a sexually active Boone, smoking cigarettes, smirking and drinking alcohol. Shocking, yes. But also terrifying for everyone involved, from management to Boone himself. These movies were shown in the UK [to some surprising success] but essentially they were shelved in the States. Pat Boone would scramble to repair his tarnished image by taking the role of an angel at Christ's tomb in The Greatest Story Ever Told (1965) and a crusading minister in The Cross and the Switchblade.
Terence Fisher directed 29 films for Hammer Studios, including all their biggest and most iconic hits (Curse of Frankenstein and Horror of Dracula). But he did not have a good relationship with the studio, especially with big boss, James Carreras. After the box-office failure of the company's most expensive project, The Phantom Of The Opera (1962), his contract was dropped. Fisher accepted this Pat Boone project on the rebound. He would then make ISLAND OF TERROR for Planet Productions with friend Peter Cushing, who paved the way for Terence to join Hammer again in late '64. At this time, he was struggling with alcoholism and directed fewer films, usually because Cushing insisted on him. Mr Fisher died in June 1980 at age 76 from a heart attack.