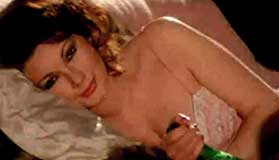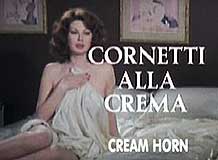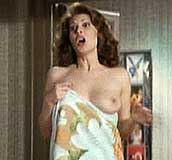 original Italian title CORNETTI ALLA CREMA [Cream Horn]

directed by Sergio Martino
starring: Edwige Fenech · Lino Banfi · Gianni Cavina · Milena Vukotic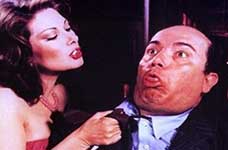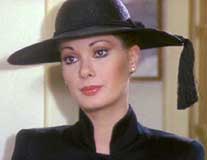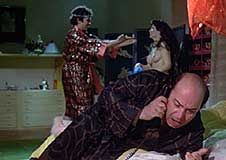 Domenico Petruzzelli is a tailor who owns a factory specializing in priest-wear for the Vatican. He's married to a traditional Catholic housewife; they have one child, a fat and stupid boy. Domenico's goal is to elevate his company to an elite status by securing an endorsement from a Cardinal customer. In this bizarre world there's also Gabriele Arcangelo, a prostitute who buys her nun outfits from Domenico. There's also Edwige Fenech playing Marianna, an opera-singer wannabe, who secretly becomes Domenico's mistress and severely complicates his relationship with the pious clients.
Although Edwige Fenech began her career in European sex comedies (ie, DESIRE CRAZY CRAVINGS), her films with Sergio Martino [YOUR VICE IS A LOCKED ROOM AND ONLY I HAVE A KEY (Gently Before She Dies), ALL THE COLORS OF THE DARK, STRANGE VICE OF MRS WARDH] established Miss Fenech as the premiere queen of Italian thrillers. But in 1973, Edwige and Sergio returned to her roots with a sex comedy, DISHONORED WITH HONOR. After that film, the two went separate ways; she into Giallos (STRIP NUDE FOR YOUR KILLER), comedies (SISTER-IN-LAW) and sex dramas (INNOCENCE AND DESIRE) while he concentrated on police thrillers (SUSPICIOUS DEATH OF A MINOR), horror (ISLAND OF THE FISHMEN) and actioners (GREAT ALLIGATOR). In the early '80s, they joined together for a series of sex comedies. This was one of the major hits.

Both Martino and Fenech are busily working today. She is playing Anna Mieli in an Italian television series, Č Arrivata la Felicitā (Happiness Has Arrived); her most recent feature film was a supporting role in Hostel: Part II. Mr Martino directed the thriller MOZART IS A MURDERER in 2001 and is currently helming Euro TV work.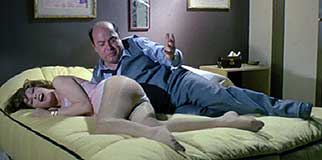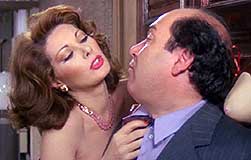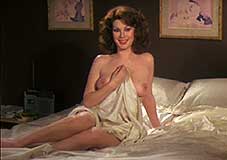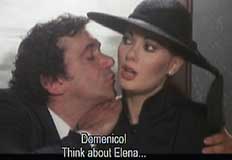 An Italian film with English subtitles; 109 minutes, widescreen
in DVD format, encoded for ALL REGION, playable on any American DVD machine.
Extras include original theatrical trailer plus selected Fenech previews.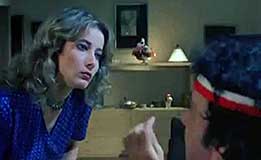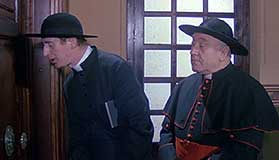 Nudity/Sexual Situations
Recommended for Mature Audiences