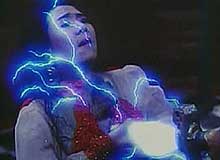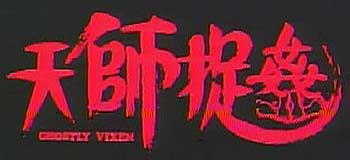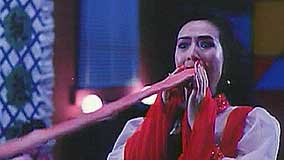 original Hong Kong / Chinese title: TIAN SHI ZHOU JIAN [Implies Demon Rape]

director: Wellson Chin
starring: Amy Yip · Danny Chan · Sandra Ng · Charlie Cho · Stanley Fung · Shing Fui-On · Susan Yam-Yam Shaw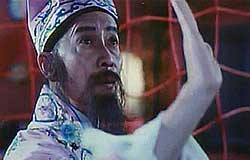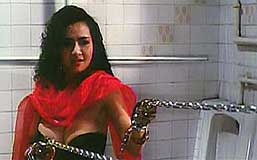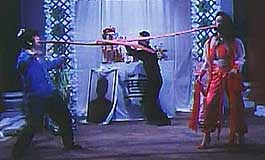 Now that the fully uncut [remastered] version of this film is finally available it must be recognized for the unapologetic mess it is. The movie is littered with strong PI humor that some viewers will find objectionable, from inappropriate macho sexual behavior to racist gags and dick & tit jokes. But at the heart of the film is a rather nifty demon-from-an-alternate-dimension story.
They call her the Evil Girl. And she comes from a different dimension. Her goal is to suck the sperm and devour the life from 100 human virgins. Once her mission is completed, she will receive an eternal body. Currently, she is at #98. A leather-clad gladiator (Shing Fui-on sporting a bushy mustache) has been sent by the Netherworld to stop her. The opening clash between these two superpowers in a glitzy disco restroom is wonderfully chic. Also quite memorable: the legendary tongue fight [see pic, upper right] between Amy Yip and Sandra Ng.
Amy Yip was best known for ROBOTRIX, EROTIC GHOST STORY, JAILHOUSE EROS, CHINA DOLLS and, of course, SEX AND ZEN. Even though she hasn't made a film since UNDERGROUND JUDGMENT in 1994 [when she quit the industry to get married], Amy Yip remains the most famous HK Category III actress in history, most notably due to her slim body and disproportionately large breasts.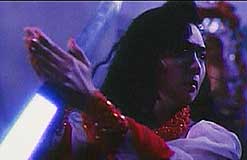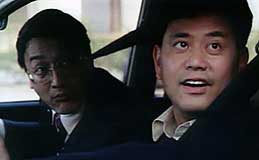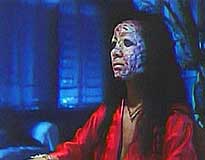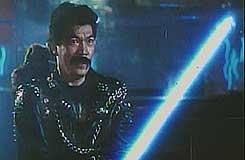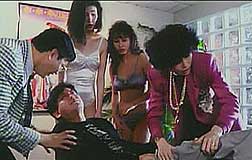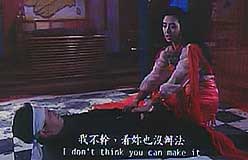 A Hong Kong/Chinese film, Cantonese with Chinese and English subtitles; widescreen format, remastered,
fully uncut 100 minutes, DVD encoded for ALL REGION NTSC WORLD FORMAT. Extras include selected theatrical trailers.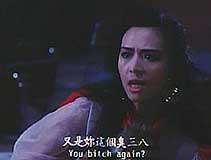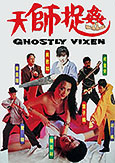 SemiNudity/Strong Scenes of Sexuality/Violence/Sexual Brutality
Recommended for Mature Audiences