Regal Pictures promoted this film:
"There will never be another motion picture like this.
We promise"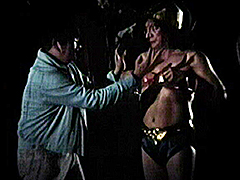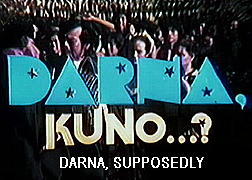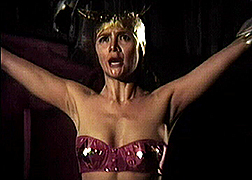 original Filipino title DARNA...KUNO? [Darna...Supposedly]
also known as DARNA...FOR REAL?

director Luciano B. Carlos and Max Ravelo (script)
starring Dolphy · Lotis Key · Brenda Del Rio · Celia Rodriguez · Marissa Delgado · Ruel Vernal · Bella Flores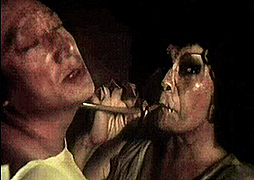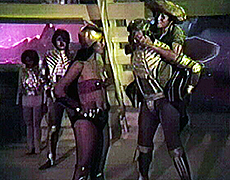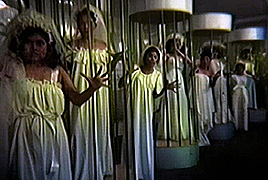 DARNA...KUNO? [Darna...Supposedly?] was produced by the official Darna production company in the Philippines (Regal Studios) in 1980, when Vilma Santos retired from the lead role. After almost a decade of playing the character, Ms Santos wore the costume the last time in the blockbuster DARNA AND DING the previous year. Series creator Mars Ravelo - believing the character had also come to an end - allowed this parody to be produced starring popular male comedian Dolphy as Darna.
The plot deals with an equally bizarre situation. When the real Darna becomes pregnant by two Japanese anime robots, Voltes V and Mazinger Z, she must pass her superhero powers [and costume] to taxi-driver Dolphy to keep the world safe from mayhem during her down-time as an expectant mother.

Both Dolphy and Lotis Key play Darna [specifically, good Darna and bad Darna, plus Brenda Del Rio is the pregnant Darna who gives the magic stone to Dolphy in the beginning of the film [she shows up again at the end with her newborn baby who is also wearing a Darna outfit]. Critical opinions are expectedly mixed, some love the movie - as exemplified by the 7.6 IMDB rating - while others hate it. As with many other productions from the Philippines, the film stock is murky and the story takes (too) many twists-and-turns into cultural humor that do not resonate for non-Filipino audiences. The first hour allows Dolphy to do his comedy schtick, drifting in and out of character, albeit, with many humorous moments. But for the second hour, male-Darna-in-the female-costume fights vampires, tikbalangs, aswangs, and other enemies including bad Darna who has stolen Dolphy's magic stone. The film also contains some surprisingly effective moments of social awareness. For example, Darna arrives in Hell to find a surreal tableau of young women in bridal costumes imprisoned in golden cages waiting to be liberated by a kiss [see pic, above right].

Perhaps, the most important thing to remember while watching this movie is the importance of Dolphy himself. He was a legendary Filipino comedian, considered a national institution for many decades, from the late 1940s until his death in 2012. His involvement here is paramount to everything else in the production.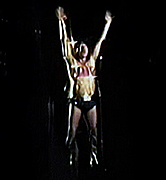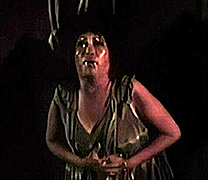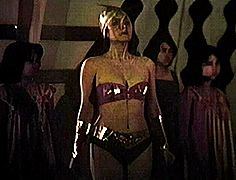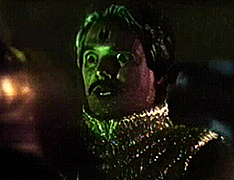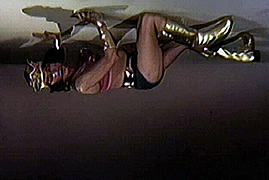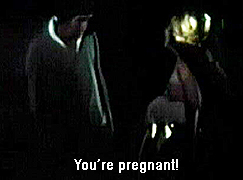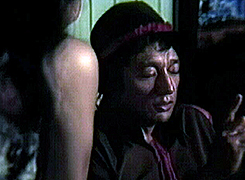 A Filipino film; widescreen uncut (124 min.) version in DVD encoded for ALL REGIONS NTSC,
playable on any American DVD machine; in Filipino/Tagalong language with optional English subtitles;
extras include Darna trailers.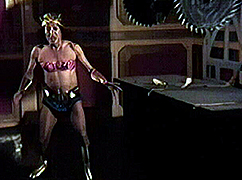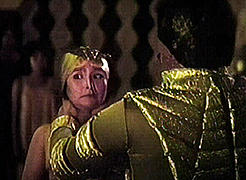 SemiNudity/Cross-Dressing Jumor/Sexual Themes:
This film is intended for Mature Audiences