Light, Breezy and Recklessly Hedonistic
One of the Best Euro 'Summer' Sex Films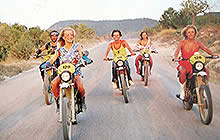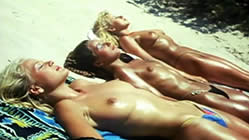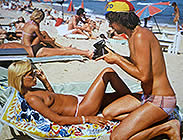 Original German Title: DIE SCHONEN WILDEN VON IBIZA [The Beautiful and Wild of Ibiza]
also known as WILD AND FREE

director: Sigi Rothmund (as Siggi Gotz)
starring: Regis Porte · Tanja Spiess · Michael Gspanol · Margit Geissler · Beate Granitz · Heidi Strom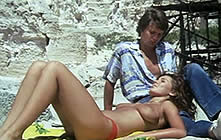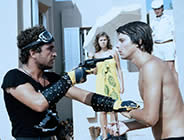 The cinematic landscape is littered with an astronomical number of free-wheeling 'summer' sex films that failed to deliver. So-much-so that it's actually quite remarkable when one really works. However, this is such a movie. An infectious charm - derived from (goofy) music, quirky characters and exaggerated melodrama - accentuates the recklessly hedonistic 70's party scene. Director Rothmund has learned his craft well, seemingly after studying Russ Meyer's Beyond the Valley of the Dolls. The two films are purposely very similar.

The plot deals with numerous things at the same time (motorcycle babes, scam artists, beach bunnies, wild discos, a transvestite, dashed dreams, cultural taboos, gay rights, sexual freedom and a non-ending villa houseparty) but all the tangents are tied together in the story of newlyweds Michael and Susi who find utter disaster upon their arrival in Ibiza, off the coast of Spain. They have no place to stay when the hotel loses their reservations, their luggage and money are stolen by a band of crooks and wife Susi decides to seek help from an ex-boyfriend. Michael becomes disenchanted and gives in to the temptations around him. He befriends a female motorcycle gang who introduce him to a forbidden side of Ibiza.
Nadja, one of the female bikers, is played by Margit Geissler. She was a popular German actress who began her career as Margit Man in the film HIGH SEASON the previous year. Ms Geissler was also married to director Sigi Rothmund. After 30+ films, she died from lung cancer at age 57, February 2016.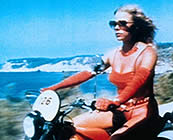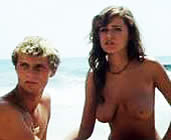 A German film with English subtitles; widescreen format, uncut (85 minutes)
DVD encoded for ALL REGION NTSC FORMAT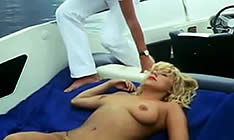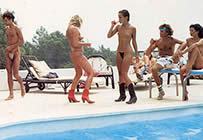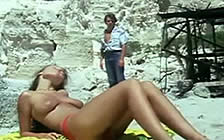 Sexual Situations/Male and Female Nudity/Homosexual Themes/Violence
for Adult Audiences