Rape, Torture & Murder by a Neo-Nazi Youth Gang!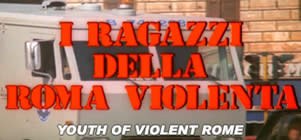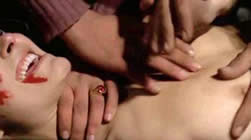 original Italian title: I RAGAZZI DELLA ROMA VIOLENTA [the Youth of Violent Rome]
also known as KIDS OF VIOLENT ROME and VIOLENT YOUTH OF ROME and SONS OF THE REICH

director: Renato Savino
starring Gino Milli · Cristina Businari · Emilio Locurcia · Sara Crespi · Mario Cutini · Paola Corozzi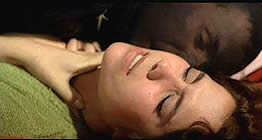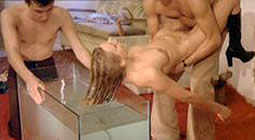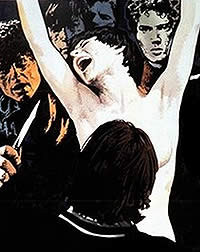 A gang of bored, rich teens, led by a sociopath named Marco, rules his crew in a clubhouse decorated with Nazi flags and photos of the Führer. Obsessed with anarchy and far-right politics, Marco hates everyone different from him. He is also a misogynist who leads his gang into a constant frenzy of torture, rape and ultimately murder against women. The notorious activities in the clubhouse inspires another gang (of ghetto street kids) to adopt the same twisted behavior.
   This is a twisted - yet begrudgingly fascinating - nihilistic film from director Renato Savino, a scriptwriter who usually wrote under the name Mauro Stefani and often worked as an assistant director to Antonio Margheriti (e.g., NUDE YOU DIE). He retired from the Industry after this film.
   Gino Milli was an interesting choice for the brutal Marco, his babyface seemed to constantly work against the evil brewing beneath the surface. He's no stranger to the genre, having starred in SHOOT FIRST DIE LATER & TERROR EXPRESS, but he's best known for the role of Aladdin in FINALLY, THE 1001 NIGHTS.
    The main two female stars were well-known to fans of European exploitation cinema. Cristina Businari made very few movies but she was the winner of Miss Italy 1967. Her first film was the Spaghetti Western I WANT HIM DEAD the same year. Her co-star here, Sara Crespi, followed this project with Paolo Cavara's PLOT OF FEAR and then NAZI LOVE CAMP 27 before retiring to get married at age 29.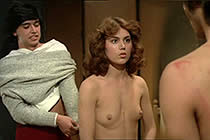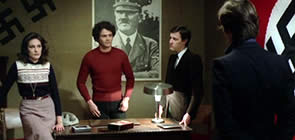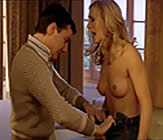 An Italian film with English subtitles; fullscreen format, uncut version (87 minutes),
DVD encoded for ALL REGION NTSC, extras include original theatrical trailer.