Extremely Rare Nunsploitation from Joe D'Amato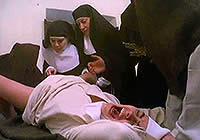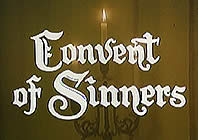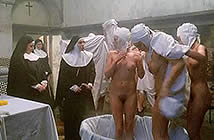 Original Italian Title: LA MONACA DEL PECCATO
also known as LA RELIGIEUSE [The Nun]

director: Joe D'Amato [Aristide Massaccesi] (as Dario Donati)
starring: Eva Grimaldi · Jessica Moore · Karin Well · Gilda Germano · Gabriele Tinti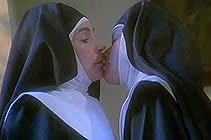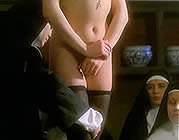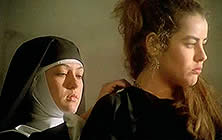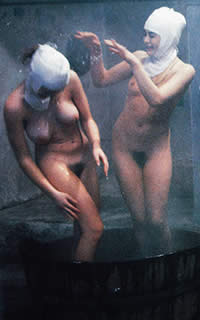 Loosely based on the 18th Century novel "La Religieuse" [The Nun] by radical French philosopher Denis Diderot, this is among the rarest of the nunsplotation films. It is also one of Joe D'Amato's most accomplished films. While essentially an exploitation project - filled with nuns/lesbian action, whipping, masturbation, torture, nun/priest frolicking, and an exorcism involving a holy water enema - D'Amato actually seems to be much more interested in creating characters and constructing a story than pursuing the mayhem of his previous 'nun' movie IMAGES IN A CONVENT. Here, his central character Maria becomes a martyr, much like Joan of Arc, accused and punished for sins she hasn't committed.

The story deals with a young girl (played by Eva Grimaldi) confined to a convent after being 'soiled' by the rape of her brutish father. She soon becomes a favorite of the Mother Superior and is seduced by a young priest, but eventually Maria falls under the spell of an ambitious nun who is plotting to take over the convent.
This was the debut film for Eva Grimadi (born Milva Perinoni in September 1961). She would continue a career through 50+ genre films including Lamberto Bava's MASK OF THE DEMON, Claude Chabrol's QUIET DAYS IN CLICHY, and Giuliano Carmineo's RATMAN. It was also the debut for her costar Jessica Moore (born Luciana Ottaviani in August 1967). She used the alias Gilda Germano for this movie. Later in 1988, when director D'Amato was making TOP MODEL with her, he suggested a name change to Jessica Moore because her body resembled that of Jessica Rabbit (from Who Framed Roger Rabbit?). During this same time, she also worked with Lucio Fulci, starring in many of his films including GHOSTS OF SODOM and BROKEN MIRROR.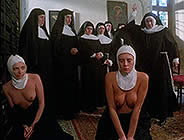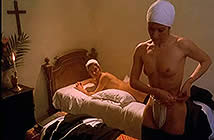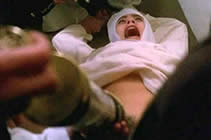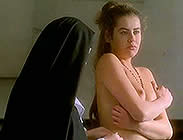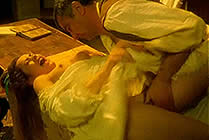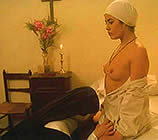 An Italian film in English language (with optional English closed caption); widescreen format (16:9), uncut (91 minutes), DVD encoded for ALL REGION NTSC WORLD FORMAT. Extras include theatrical trailers.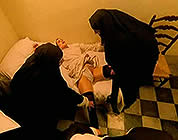 Violence/Nudity/S&M/Whipping/Sexual Brutality/Lesbianism
Recommended For Adult Audiences