The Legendary Erotic Roughie Now Available
with English Subtitles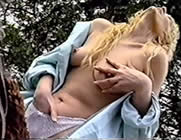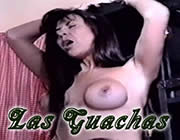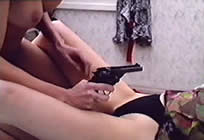 Original Argentinean/Spanish Title: LAS GUACHAS
[Las Guachas is a rural area of Argentina near Toluca, similar to USA's Ozarks]

Also known as ORPHAN SISTERS and RURAL LUST

director: Ricardo Roulet
starring: Susana Torales · Ana Marelli · Silvana Pane · Pablo Nopoli · Ricardo Mella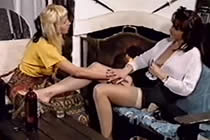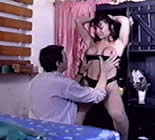 This notorious South American film is loosely based on the perverse crime spree of two redneck sisters - Maria and Rosa - forced to raise themselves (from childhood) after parents were killed during a home invasion. The film begins with the cruel murder of mom and dad and then jumps ahead 25 years for a look at how the two sisters have coped since. These cunning (but uneducated) young women have learned how to eke out a meager living by selling vegetables to the village markets. However, their social skills are virtually nonexistent and they perceive most everyone as some sort of threat. They virtually slaughter anyone who approaches their ranch uninvited.
Ricardo Roulet loads his film with plenty of nudity and some sadistic deaths. He doesn't shy away from the sleaze. This legendary roughie includes a lesbian seduction that ends with Maria taking a gun and shooting her partner in the crotch, plus there's a scene showing Rosa urinate on one of her male victims after killing him, and there is also an unnerving segment which shows Maria purposely branding herself while squatting over a bonfire.
In South American, especially Brazil and Argentina, the Pornochanchada [nicknamed "Chada Movies" by fans] were popular between 1977-2000. Similar to Japan's Pink films or America's Roughies, most were not hardcore (XXX) but rather 'taboos productions' with emphasis on sex and violence. Virtually nothing is off limits; the plots often delve into rape, misogyny, bestiality, sexual brutality, necrophilia, water-sports, and adolescent sex. Some of the best examples of this S.A. genre are VIOLENCE AND FLESH, CHICK'S ABILITY, DIABOLICAL VENGEANCE (XXX) And RAPISTS OF VIRGIN GIRLS.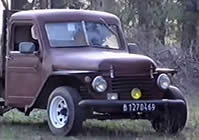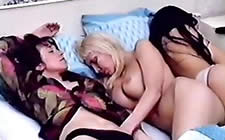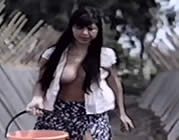 An Argentinean production with good English subtitles;
widescreen format (16:9), 82 minutes, encoded for ALL REGION NTSC,
playable on any American machine.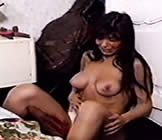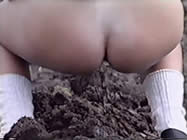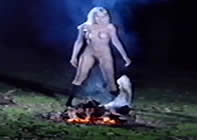 Nudity/Graphic Violence/Strong Sexual Situations/
Sexual Brutality/Lesbianism/Rape
for Adult Audiences