Mad Scientist transforms into a Walking Catfish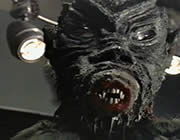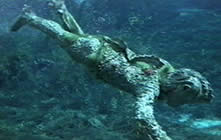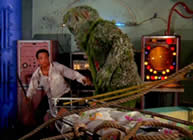 Also Known As: HYDRA and ZAAT and ATTACK OF THE SWAMP CREATURE

director: Don Barton
starring: Marshall Graver · Wade Popwell · Sanna Ringhaver · Gerald Cruse · Nancy Lein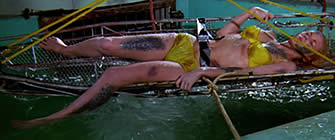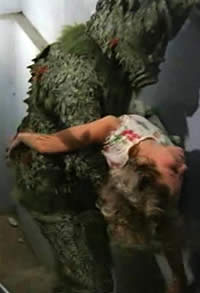 A mad scientist transforms himself into a walking catfish monster. He is also polluting the waters with a radioactive serum because... well because he can. Dr Kurt Leopold has harbored this dream of world destruction for 25 years. And now he finally has his chance. "People will remember me," he muses without considering - if successful - there won't be anyone left to remember him. He manages to start his venture by transforming himself into a monster ["It's not really a catfish," he thinks standing in front of a laboratory mirror, "But it's still cool."]. He wrecks havoc in this Florida city before a hero shows up (after about half the movie has passed) and tries to put an end to the mayhem.

This was the lone project of Don Barton, a Jacksonville public relations director (and 16 mm enthusiast) who would pass away in 2013 at age 83. The movie was lampooned on MST3K [but oddly they showed a truncated 70 minute version] and it has the dubious distinction of being in the bottom (Top) 10 of IMDB's all-time worst films. Here, now, is the fully uncut print.

The Amphibian Man concept burst onto the screen with Universal's 1954 CREATURE FROM THE BLACK LAGOON (and the sequels). Numerous notable sequels hit the International market later, including Sergio Martino's ISLAND OF THE FISHMEN, William Winckler's FRANKENSTEIN AND THE CREATURE FROM BLOOD COVE and who could forget their villainous presence in Rene Cardona's BAT WOMAN.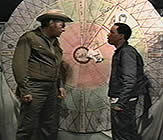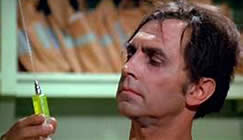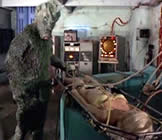 An American film in English; windowbox format, uncut 100 minutes),
DVD encoded for ALL REGION NTSC WORLD FORMAT. Extras include original trailer.