This is an Adults Only Motion Picture containing Hardcore XXX Scenes
The film and the images on this page are intended for Age 21 and Older!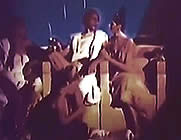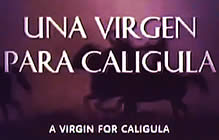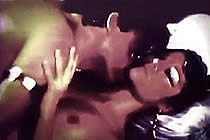 Original Spanish/Italian Title: UNA VIRGEN PARA CALIGULA

director: Jaime J. Puig (as Jacob Most)
starring: Raquel Evans · Andrea Albani · Ana Moreno Rufo (as May O'Sullivan)
Joaquin Gomez (as King Gomez) · Conrado Tortosa (as Pipper)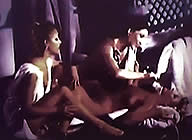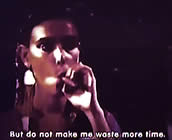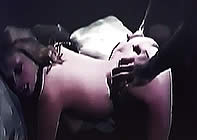 While waging war in a remote Germanic territory, a Roman centurion named Veterano captures Princess Virgita and her servants. After learning that the young woman is - in fact - a virgin ["Never seen one of them before," he muses], Veterano decides to take her to Rome as a gift for emperor Caligula. While Caligula is indeed appreciative, he's also concerned. What is a virgin? How is she different from other Roman women? Caligula goes to the temple to seek information from the Gran Sacerdotisa who admits ignorance while telling him that it's an archaic custom that was abandoned because it leads to madness. Not satisfied with her answer, Caligula and Centurion Veterano make a trek to question the witch Lela who lives in a cave outside Rome. She explains - through a demonstration on a conjured television set - how a woman can be a virgin but she also warns him that virginity doesn't guarantee sexual innocence. In the meantime, princess Virgita has arrived at the Bacchus Temple where she becomes the new plaything for the Gran Sacedotisa and her assistant. They discover that the girl isn't a virgin at all so they organize an operation that will "put the cork back inside" before Caligula's wrath sends everyone to the lions.
This outrageous sexual Peplum was directed by Jaime A. Puig shortly after his equally cockeyed film BACANALES ROMANAS, and it shares must of the same cast (with the exception of Ajita Wilson). In fact, inexplicably, Raquel Evans often shows ups in the same costume [and blonde wig] as she wore in that prior movie. The film is comprised of mostly newly shot scenes but it does share stock-footage and some previous seen hardcore segments. Please note, the inclusion of various hardcore (XXX) scenes are immediately shocking when they seem to materialize from nowhere in this motion picture.
Raquel Evans was a rather prolific genre actress. She starred in CATHERINE CHERIE prior to this project and Sergio Garrone's film HELL BEHIND BARS a few years later. Director 'Jacob Most' (actually Jamie Puig Rodreguez) was born in Barcelona, 1935. He helmed very few movies, and officially stopped in 1988, considering it mostly 'a lark.' Jamie's real interest was teaching and conducting life-style workshops. Between 1990-2000, he authored a series of 20+ self-help books on a variety of eccentric subjects. These titles include: How Virtual Reality Is Created, 5000 Years of Commerce and Publicity, How to Get a Job and So Comics Are Created.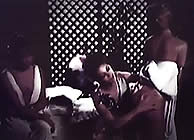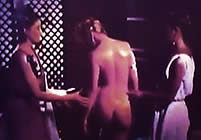 A Spanish production with English subtitles; widescreen format (16:9), 80 minutes, encoded for ALL REGION NTSC, playable on any American machine. Extras include selected trailers.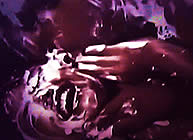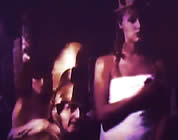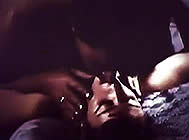 Sexual Situations including Hardcore Scenes (XXX)/Male and Female Nudity
for Adult Audiences Only