Kathleen Benner in the Sequel to NAKED FEAR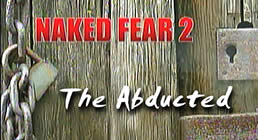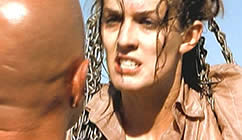 Original American title: MATCH.DEAD
also known as THE ABDUCTED

director: Jon Bonnell
starring: James Ray · Kathleen Benner · Michael Harrelson · Ashley Francis · Greg Joseph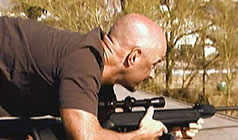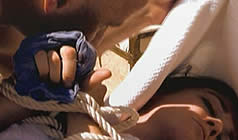 Valora decides to jump into Internet Dating with both feet. She arranges for a meeting with a Ridley, a stranger from an online 'Match' site. It doesn't take long for her to become a victim to this abusive macho psychopath. She soon finds herself bound, gagged and tortured in his rustic cabin. But Ridley doesn't realize this young woman has been trained and she's not the easy victim he thinks she is. So rather than attempting an escape, Valora endures the torment as she waits for her chance to turn the tables on him.
Internationally, this movie was released as a sequel to the very sleazy hit NAKED FEAR. The landscape is the same [the desolate Western wilderness] but it is decidedly more character driven, with the victim being far from helpless or nondescript. This kind of film either lives or dies depending on the performances of the leading actors. James Ray does what is expected of him. He is a towering figure, hopelessly driven by a deep-rooted misogynistic mania. But - ultimately - he's a one dimensional character. Other the other hand, Kathleen Benner manages to expand on her perilous predicament. She brings much experience to the part. Ms Benner also played the tortured prey two other times in 2009, for SPORTKILL and FLESH, TX. These roles allow her to manifest a certain empathy often missing in this horror genre.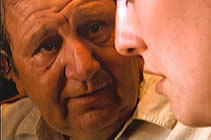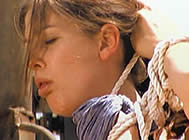 An American film in English language; widescreen format (16:9), totally uncut version (82 minutes),
DVD encoded for ALL REGION NTSC WORLD FORMAT. Extras include Naked Fear trailers.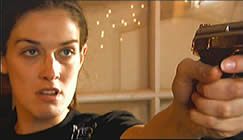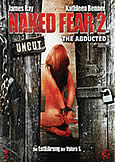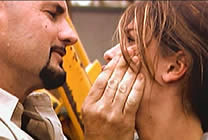 Graphic Violence/Sexual Themes/Nudity/S&M/Sexual Brutality
for Mature Audiences