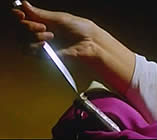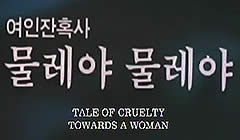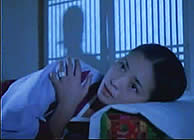 Original Korean title: YEOIN JANHOKSA MOULLEYA MOULLEYA
[Spinning Tale of Cruelty to Women]
Also known as: THE SPINNING WHEEL and SPINNING A TALE OF ABUSE

director: Lee Du-Yong
starring: Won Mi-Kyung · Shin Yeong-Ryong · Moon Jeong-Suk · Choi Seong-Kwan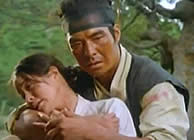 Young Kil-rye comes from a respectable but poor family. As such, she is considered 'less valuable' within the respectable community. Kil-rye is married posthumously to the deceased son of a powerful government official. Her life is a miserable lonely existence. Now that she has 'served her purpose,' the father-in-law takes pity on the girl and helps her run away. She becomes a mistreated servant in the house of Minister Choi. Kil-rye eventually marries [a low-level nobleman] but when it appears that she cannot produce a male child to continue the bloodline, Kil-rye puts both herself and her husband in physical jeopardy.

This quality Pink production from Korea [similar to the better Nikkatsu projects of the '70s] was the Official submission from South Korea in the Best Foreign Language Film category for the 56th Academy Awards in 1984. But - like most all Asian entries - it was rejected. Reportedly, Hanrim Studio was told by the Academy that it was not possible for one woman to experience so many misfortunes in her life. [The winner for that category was the Swiss motion picture Dangerous Moves, a film about chess.]

Here is one of numerous erotic Pink films produced in Korea. Also see: MOTEL CACTUS, LA BELLE, MY WIFE IS A WHORE, YELLOW HAIR, HOUSEMAID (et al) for a good cross sampling of the genre.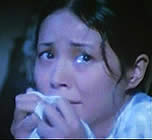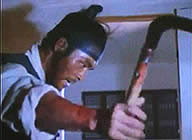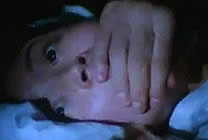 A Korean film with removable English subtitles; widescreen format (16:9),
fully uncut 115 minutes; DVD encoded for ALL REGION NTSC WORLD FORMAT.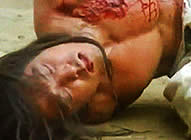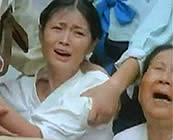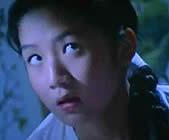 Violence/Sexual Themes/Sexual Brutality
for Mature Audiences