The Original Jackie Conn / Frankie Shum Hit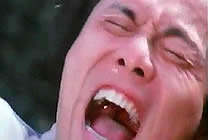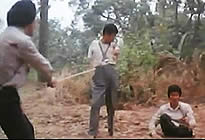 Original Taiwanese/Chinese Title: CAN QUE SHUANG XIONG [But Together As One]
also known as CRIPPLED HEROES and TWO CRIPPLES AND A BLIND GIRL

directors: Yao Hsiao (as Joseph Siu)
starring: Kang Chao-Ming (as Jackie Conn) · Shen Sung-Chuan (as Frankie Shum) · Chang Ping-Ping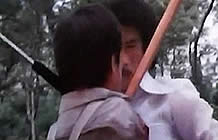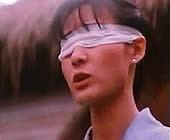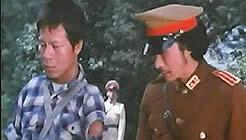 Jackie, a man with no arms [or at the very least, disfigured arms], wanders across the countryside with his pet chimpanzee, Sasha. He comes upon the isolated shack of a legless man named Frankie. They immediately challenge each other. A fascinating fight ensures between the two cripples, punctuated by very impressive stunts. After the chimpanzee [accidentally] destroys a hanging structure over Frankie's garden, the macho posturing stops and the two misfits decide to become friends. The next day, Jackie wanders into the nearby village where the mayor is giving a cautionary speech against potential invading soldiers. He is really fleecing the people by demanding donations even though he has no intention of using the money for anything except lining his pockets. After the rally, a young woman named Atchun overhears the corrupt politician discussing further plans, including the murder of a general, with his cronies. The mayor spots Atchun and attempts to eliminate her with a stranglehold but she breaks free. He tosses lye at the girl, blinding her. She manages to escape into the street where she bumps into Jackie. He rescues sightless Atchun and takes her to the safety of Frankie's shack where the three 'cripples' they make plans for retaliation.
The film was more successful than the original Conn/Shum outing, CRIPPLED MASTERS, which featured them in minor roles. Sequels followed until Jackie Conn broke the partnership in the early '90s by deciding to leave Taiwan for the United States. The armless master landed in Pennsylvania where he opened Jackie Conn's Philadelphia Gun & Pawn Shop. The store was featured on an episode of The Marty Stuart Show [a long-running syndicated Country Music variety program] in 2013.
This was the debut movie for director Yao Hsiao. Despite his affinity for martial arts cinematography, Yao left the genre for a truncated career in soft-core erotica. After Ban Ai Ban Wan [Love Play, 1986] and Qing Ya Xian [Trap of Desire, 1987], he retired from filmmaking.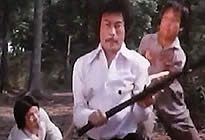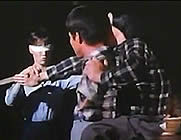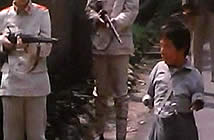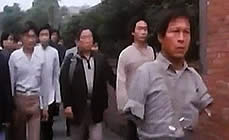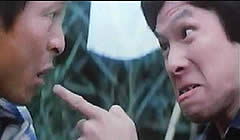 A Taiwanese/Chinese production in dubbed English language;
widescreen format, uncut 90 minutes, encoded for ALL REGION NTSC,
playable on any American machine. Extras include selected trailers.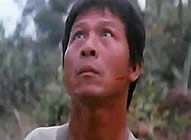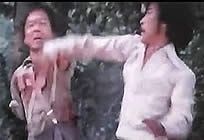 Violence/Martial Arts
for General Audiences