One of the Very Best Crime/Noir Thrillers Ever Made!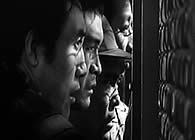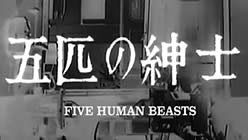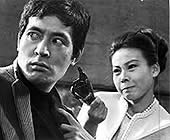 Original Japanese Title: GOHIKI NO SHINSHI [Five Beasts with Human Faces]
also known as CASH CALLS HELL and LE SANG DU DAMNE (French) [Blood of the Damned]

director: Hideo Gosha
starring: Tatsuya Nakadai · Ichiro Nakatani · Hisashi Igawa · Kunie Tanaka · Kaneko Wasaki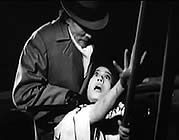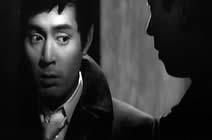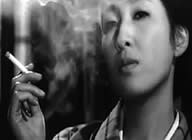 Director Hideo Gosha, the undisputed king of Japanese Noir, delivers his greatest crime thriller in this story of an ex-con who accepts a hit-job on three men, but then decides to look into why the kill was contracted in the first place.
This incredibly cool project embraces all the hallmarks of classic film noir. First, there's the plot itself, a maze of crime, corruption and betrayal with a glimmer of redemption at the inevitable denouement. Next, the screen pops with the stark, expressionistic black and white cinematography, accentuated by the gritty urban landscape, underscored by Masaru Satô's beat/jazz soundtrack. This is the pinnacle of Hideo Gosha's work (although today's cult fans know him better for his later sword-fighting diva flick DEATH SHADOWS) and remains one of the greatest examples of Crime Noir in cinematic history.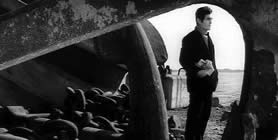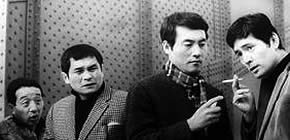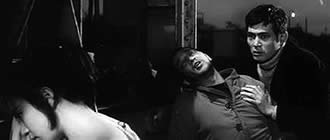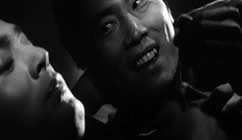 A Japanese film with English subtitles; widescreen format, black and white.
Fully uncut 92 minutes; DVD encoded for ALL REGION NTSC WORLD FORMAT.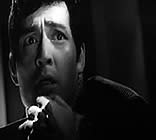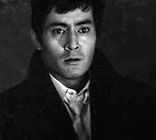 Violence/Sexual Themes
for Adult Audiences