Jesus comes back to Earth,
gets a girlfriend and challenges the Mafia...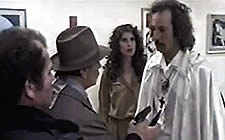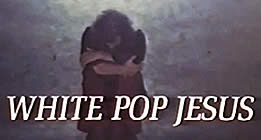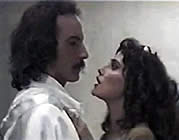 Also Known As: EL PROFETA POP (Spanish) [The Pop Prophet]

director: Luigi Petrini
starring: Awana Gana · Stella Carnacina · Gisela Hahn · Tony Schneider · Gianni Magni · Crippy Yocard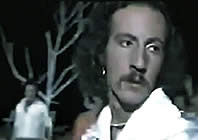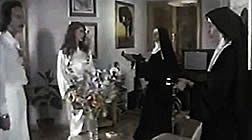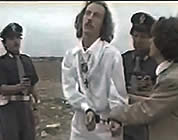 The films opens as Jesus leaves Heaven (a place that appears to be an insane asylum) and then emerges from the ocean in modern-day Italy. He then materializes in the office of Lattuga Pop, a sexy accountant who is about to be kidnapped by two Mafia goons. Apparently, mob boss Playboy Smith wanted her for himself. But Jesus foils their attempt - through his hypnotic powers - and sends them scurrying away. Lattuga immediately falls head-over-heels in love with Jesus and suggests that they "get it on." He is frustrated by her sexual advances and explains that 'it's not permitted.' However, a bit later - after being tempted by the Devil and his perverted hippies - Jesus talks to God [his father] about the predicament. God tells him to go for it (!), advising him only to avoid politics and that "messy business with the wooden cross." So, Jesus hooks up with Lattuga and they start gathering more followers. In the process, the Messiah angers the Mafia gangsters [who claim they have always been the anointed protectors of the Church] and he alienates the brother of Lattuga Pop, an accident-prone police commissioner named Vito. There's lots more... including revolutionary nuns with machines guns, a musical interlude about the scourge of drug abuse [as a spiky haired ballerina transforms into a giant syringe], a den of free-love shoplifting hippies, and the eventual emergence of 'rock star' Jesus.
This esoteric motion picture is written and directed by Luigi Petrini with virtually no self awareness. Seemingly, he was unable to distinguish between what's good and what's not, or - perhaps more pressing - what's acceptable and what's artistically bankrupt. Jesus is played by Awana Gana [in his only film] encrusted in a smarmy, polyester shell that drastically challenges his co-star Stella Carnacna at every turn. She, an Italian pop singer, is also the veteran of numerous cult films including the leading role in Mario Gariazzo's SEXORCIST. The third star is German-born Gisela Hahn, a popular actress with tons of experience but very little screen time here. She is a well known genre diva [from Fernando Di Leo's BOSS OF THE CITY] who also made Luigi Cozzi's ALIEN CONTAMINATION and Jess Franco's SEX CANNIBAL earlier in 1980. This would be Luigi Petrini's final film, lensed two years after his hit DAY OF VIOLENCE.
The music and songs (yes, this motion picture could be considered a musical, probably initially conceived as a edgy knockoff of Jesus Christ Superstar) was written by the team of Franco Bixio and Vince Tempera, recognized for a wide variety of movie soundtracks ranging from NEST OF VIPERS to MANAOS.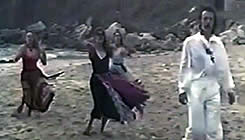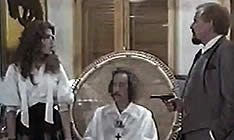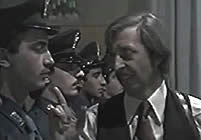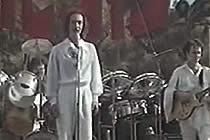 An Italian film with optional English subtitles; widescreen format,
uncut 88 minutes; DVD encoded for ALL REGION NTSC WORLD FORMAT.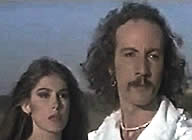 Violence/Sexual Situations/Drugs/Religious Weirdness
for Mature Audiences