Perhaps, the Most Bizarre Film ever made
from Nikos Zervos, the 'John Waters of Greece'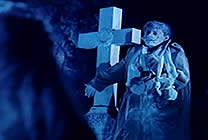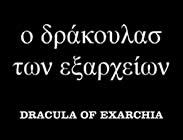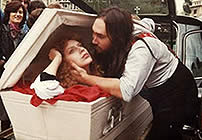 Original Greek Title: O DRAKOULAS TON EXARHEION [Dracula of Exarchia]

director: Nikos Zervos
starring: Konstantinos Tsoumas · Tzimis Panoumas · Dimitris Poulikakos · Isabella Mavraki
Johny Vavouras · Nicolas Asimos · Vangelelis Kotronis · Tsonyy Vavouras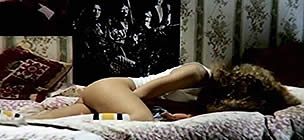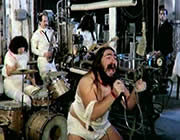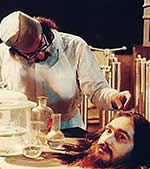 This cockeyed film is more appreciated today [especially Internationally] than when it was first released upon an unsuspected Greek audience in 1983. It has played numerous Cult Film Festivals throughout Europe in the past few years and won the Best Film Award at 2007's Panorama of European Cinema. But it remains virtually unknown in the United States.
The setting is Exarcheia, a suburb of Athens known for its anarchist, hippie culture. Mad scientist Viktor Papadopoulos (Dracula of the title) moves to this community from the Carpathian Mountains with his daughter. He and his team of ghouls raid the local cemetery for body parts of legendary musicians (including Jimi Hendrix) to build and regenerate the next music supergroup. The cemetery disturbance angers the dead residents and these zombies plan to make their grievance known by holding public awareness concert. They concoct a plan to kidnap Viktor's band, the Music Brigade. During the zombie invasion, Viktor's daughter Julia helps the Brigade escape and she becomes romantically involved with lead singer Tzimis. For a few dollars, they accept a gig at a feminist concert [with bodybuilder entertainers] that turns into an orgy, resulting in a police bust. However, Julia and Tzimis manage to escape. They wander around Athens, taking time to enjoy sex, while being chased by zombies through the streets and even stranger occurrences inside bizarre department stores. Eventually they reunite with the Music Brigade and perform at the fateful Protest Concert.
Easily one of the strangest films ever made. The unconventional plot, with virtually no ties to continuity or reality, is both maddening and marvelous. At the core, here is a political and social satire aimed squarely at cultural issues [like homosexuality, health care, socialism, the women's movement, censorship, advertising, racism] which - shockingly - are as contemporary today as they were 40 years ago! But it should also be noted that this brainchild of director Nikos Zedrvos (called the Greek John Waters) and Tzimis Panousis (the actual lead singer for Music Brigade, the country's #1 rock band) is a salute to New Wave music. It features die-hard rock-n-roller Johny Vavouras, Nicolas Asimos, Dimitris Poulikakos and, of course, Tzimis Panousis performing in a concert shot in the Peace and Friendship stadium.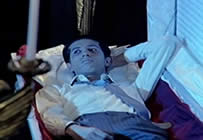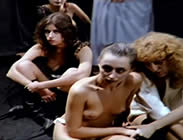 A Greek production with optional English subtitles; widescreen format (16:9),
uncut version (88 min.), DVD encoded for ALL REGION NTSC, playable on any American machine.