the Scandalous Masterpiece for director Luciano Ercoli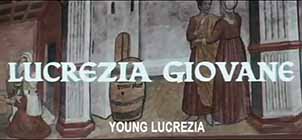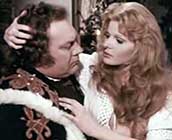 original Italian title LUCREZIA GIOVANE [Young Lucrezia]
German title SÜNDEN DER LUCREZIA BORGIA [Sins of Lucrezia Borgia]

director: Luciano Ercoli
starring: Simonetta Stefanelli ˇ Massimo Foschi ˇ Ettore Manni ˇ Elizabeth Turner ˇ Fred Robsham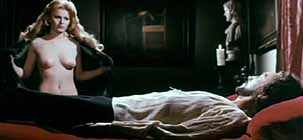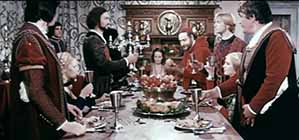 The waning years of the 15th Century, the Borgia family of Italy are the most powerful force in Europe. They were corrupt, sinister and deadly. The patriarch was Rodrigo. In 1470, he managed to take over the Catholic Church and become Pope Alessandro VI. His lecherous brother Sisto was appointed the top ranking cardinal. Pope Alessandro had three children with his mistress Vannozza Cattanei: two wildly ambitious sons Caesar and Juan, plus a girl, Lucrezia. When Alessandro wanted to impose control over central Italy, he arranged a marriage between Lucrezia and Giovanni Sforza, the Duke of Milan. A year later, after the union proved no longer advantageous, Alessandro called for an annulment, claiming that Giovanni was impotent. In response, the young husband was forced to 'show his virility' in court - before a leering audience - as he attempted unsuccessfully to engage in intercourse with two prostitutes.
It's also a historical fact that the same year, Caesar killed his brother Juan after learning of an incestuous relationship between him and sister Lucrezia. Equally disturbing, once Lucrezia returned to Rome after getting released from her marriage, she immediately goes to the Vatican where she is impregnated by her father, the Pope. Director Luciano Ercoli uses all these lascivious details to create an amazing, fascinating story that also includes Lucrezia's tryst with a deformed dwarf in the dungeon and her lingering fear that she will eventually become the slave of her brother Caesar, who also raped her when she was a child.
This film is an absolute masterpiece for director Luciano Ercoli. It is beautiful and sweeping while also being incredibly lurid. It benefits from a stellar cast, starting with gorgeous Simonetta Stefanelli in the complicated role of Lucrezia (she is best known for playing Apollonia, Michael Corleone's Sicilian wife [blown up in a car bomb] in The Godfather). Massimo Foschi is also remarkable in his sinister portrayal of Caesar Borgia. Cult fans remember him well for the lead in Ruggero Deodata's LAST CANNIBAL WORLD. The enigmatic Elizabeth Turner shines as Giulia, the Pope's current prostitute mistress and friend of Lucrezia. She made only a handful of films in the '70s (including Lucio Fulci's SEVEN NOTES IN BLACK and Antonio Margheriti's CANNIBAL APOCALYPSE) but virtually nothing is known about her personal background.
Producer-turned-director Luciano Ercoli actually helmed very few movies. This is his only historical endeavor. Mr Ercoli is best known for his successful string of thrillers FORBIDDEN PHOTOS OF A LADY ABOVE SUSPICION, DEATH WALKS ON HIGH HEELS and DEATH WALKS AT MIDNIGHT. He quit the movie business in 1977 after receiving a large inheritance.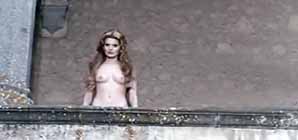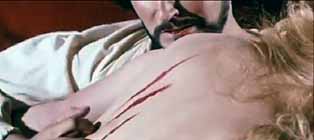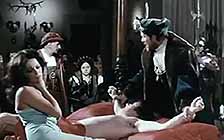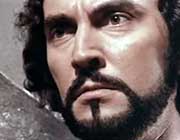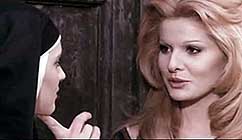 An Italian film with optional ON/OFF English subtitles; widescreen uncut (83 min.);
for ALL REGIONS, playable on any American DVD machine.
Extras include selected trailers.

  

Strong Sexual Situations/Nudity/Graphic Violence
for Mature Audiences